News » We're Hiring
2022-04-20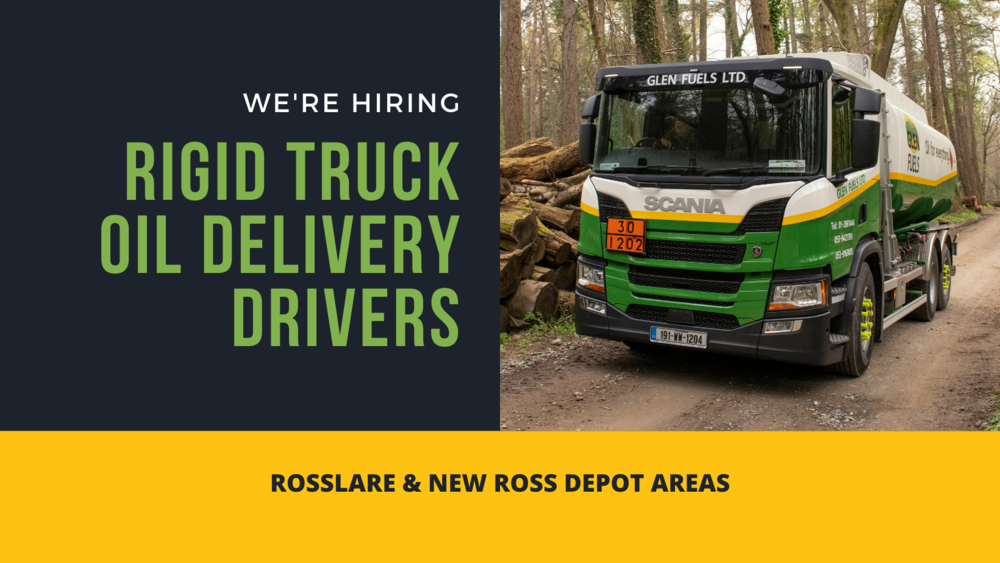 Truck Drivers Job Vacancy
Combine deliveries and sales (delivery and sales commission) or focus on deliveries only (commission per delivery).
Covering the Glen Fuels Rosslare and New Ross depot areas.
Delivering home heating oil, agri diesel and commercial fuels.
Responsibilities:
Strong customer services skills
Excellent time management skills
Ability to follow Health and Safety regulations
Good ability to work with colleagues at all levels
Treat all customers in a professional and courteous manner
Provide a safe and professional service according to company delivery procedures
Promote the company, service and products at all times
Be alert to sales opportunities and pass relevant leads to the depot
Complete daily driver's stock reconciliation sheet
Complete loading docket for each loading to your truck
Dip vehicle tanks daily/as required ensuring stock figures are accurate and correct
Orderly filing of delivery dockets to be given to office staff daily
Complete daily vehicle checklists as required
Experience:
No experience needed as Glen Fuels has welcomed several newly qualified drivers onto the roster.
If you are a qualified rigid driver with current certificates, please send us your CV by private message for consideration.
Location:
Working from the Glen Fuels Rosslare and New Ross depots.
Delivering to the domestic, agri, commercial and marine sectors in South Wexford, South Carlow, South Kilkenny and East Waterford.
About Glen Fuels
Second-generation family-owned oil distribution business founded in 1986
Irish Times Top 1000 Company
Deloitte Best Managed Company Finalist
Oil Distributors of Ireland, top 10 listing
Glen Fuels - Energy for Everything