News » Coffee Cup Crime and Consciousness
2019-05-30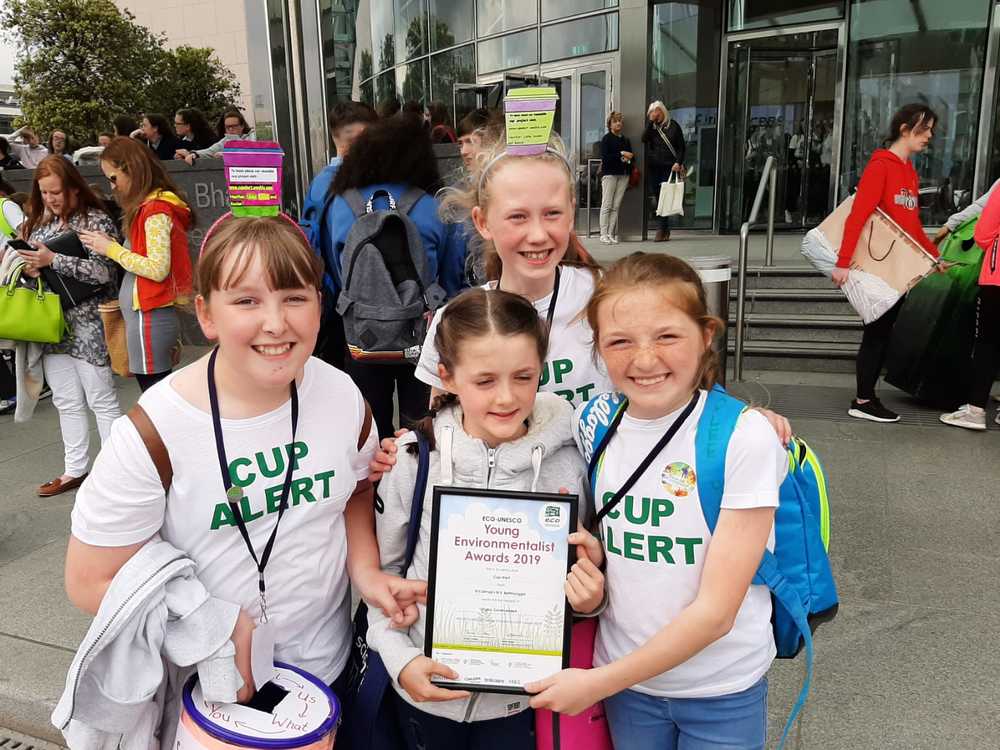 UNESCO Young Environmentalists
Congratulations to Keelan, Kaylee, Heather and Libby who were "Highly Commendable" for their Cup Alert initiative at the ECO-UNESCO Young Environmentalist Awards 2019.
The girls are 5th and 6th class students at St Colmans's National School, Ballindaggin and were one of three groups from the school to reach the finals.
Inspired by Glen Fuels
We're thrilled that the Glen Fuels 100% recyclable coffee mug inspired four young ladies to tackle coffee cup crime and consciousness with an initiative called Cup Alert.
"Dad was coming home with the reusable cup from Glen Fuels and we were seeing coffee cups that had been thrown into ditches along the roadside", said Keelan Hipwell who wants to see a ban on non-recyclable coffee cups.
Irish Figures on Non Compostable Cups
The girls visited six coffee retail outlets armed with Cup Alert posters (pictured) to be displayed publicly for four weeks, questionnaires for the managers and a comments box for the customers.
An article in The Journal offered the facts and figures:
200 million coffee cups are thrown in Irish bins each year which equals

528,000 a day
22,000 an hour
366 a minute
6 per second

1 in 400 disposable coffee cups are recycled
A video on the Independent.co.uk explains that disposable coffee cups are not recyclable because:
They're contaminated with fluid (tea, coffee, milk) which recycling centres don't accept;
To make the paper waterproof a film of non recyclable plastic polyethylene is bonded to the paper.